Happy Halloween!!!
The Modified Figures on Handcars!
My YouTube Channel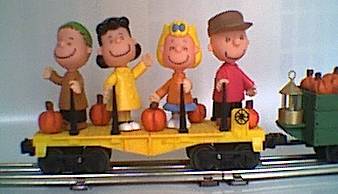 Here are Linus, Lucy, Sally, and Charlie Brown on a shortened Lionel flatcar. Notice how the characters are holding the flatcar's posts. Figures are held in place with a small amount of a waxy temporary adhesive (Mini-Hold) under their shoes. With the addition of a small turkey figure, this doubles as a Thanksgiving train, just perfect for the Thanksgiving table on a small O27 oval of track! Trains on the table mean less food to buy, cook, and eat. Stay fit, eat less, save money; another benefit of enjoying trains!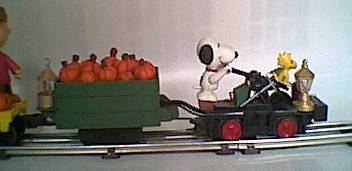 The familiar Snoopy and Woodstock handcar with its small ore car filled with polymer clay pumpkins. The eBay handcar project explains how this handcar was modified. A Lionel dummy coupler (600-9090-018) was added to the rear of the ore car to allow for the pulling of rollingstock. A dummy coupler can be added directly to the rear of the handcar.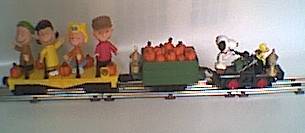 The handcar has enough pulling power to handle the flatcar with the figures and pumpkins. The lead fishing weight in the very front of the handcar, and a new traction tire, gives the handcar good pulling ability. Even another piece of rollingstock could be added. This set of "mini" figures (by Memory Lane) which was in great supply in 2006, average height 3.25 inches, is still available in a limited supply on eBay and through on-line stores. Try searching Google for the Charlie Brown Christmas mini figures clip-on set. The Lionel Snoopy and Woodstock handcar, which was made in 1990-91, is sometimes on eBay. Things change very quickly on the Web, so check frequently. I have been hoping for several years now that Lionel would bring back the Snoopy and Woodstock handcar.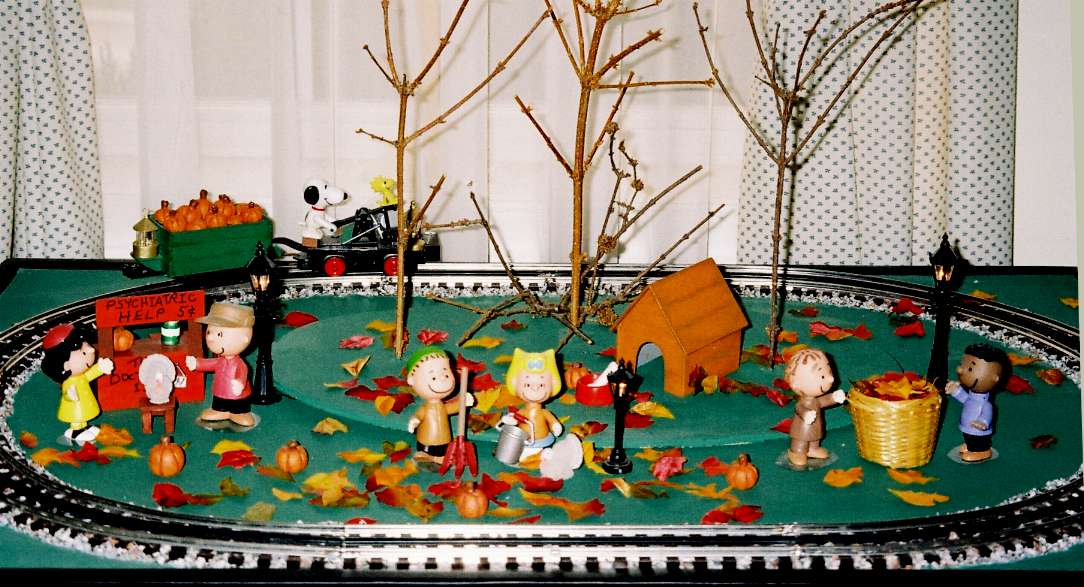 [more about the modified figures]
[for the best photos of these projects]
Here is a great source for various figures: Charlie Brown, Snoopy and Peanuts figures from Time & Space Toys
[back to main page]