Happy Thanksgiving!!!
Please don't call it turkey day!
My YouTube Channel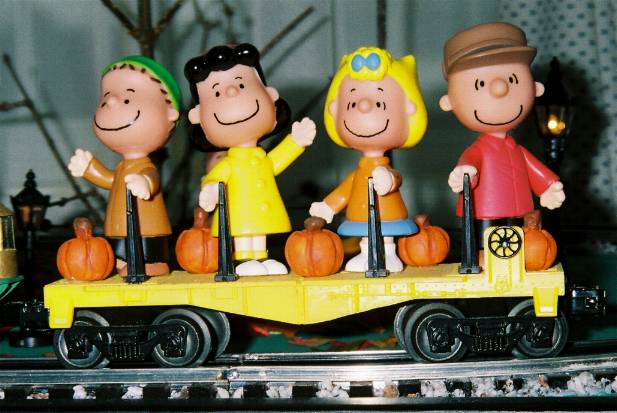 Our friends on the shortened Lionel flatcar. They're holding on for the ride!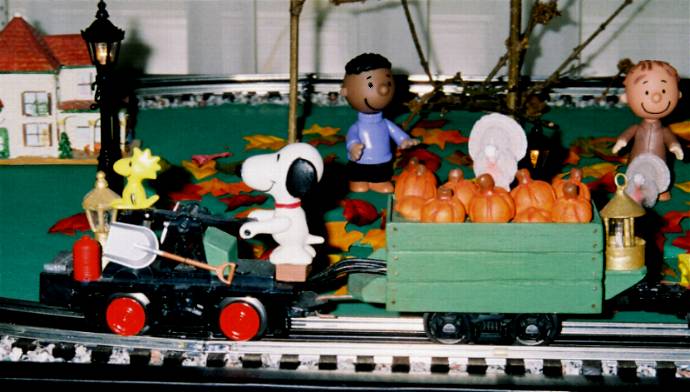 Once again, the modified Lionel Snoopy and Woodstock handcar with the ore car full of pumpkins, and a happy turkey. Why is the turkey happy? The Peanuts gang is vegetarian!!!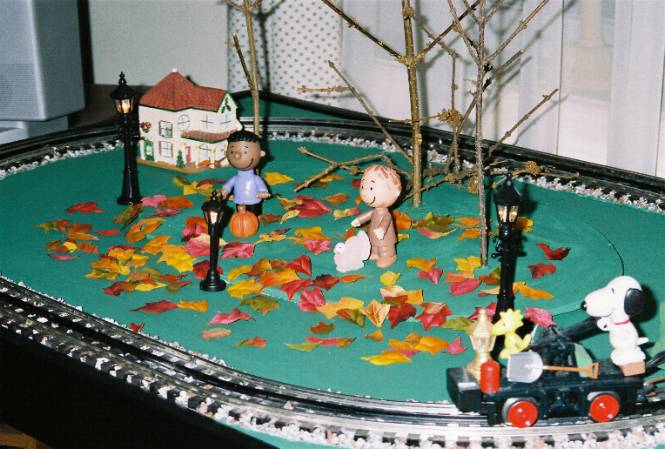 The Halloween and/or Thanksgiving scene. Notice the addition of the 2 turkeys (from the A C Moore craft store) convert the Halloween scene to a Thanksgiving theme. The leaves, also from the craft store, were cut down to size from larger fake autumn leaves. Both the leaves and turkeys were purchased on sale for under a buck, total excluding tax. A good example of a scene on a shoestring budget! The trees are just branches cut from the back yard. One lamppost is from a set of 2 from the dollar store, the other lamppost from the set was cut down and painted gold for the lantern on the front of Snoopy's handcar. The 2 taller lampposts are from Wal-Mart Christmas stock. All the lampposts are 3 volt, wired in series and run off of a 7.5 VDC wall transformer. Track is powered from a standard Lionel toy train transformer. The little house, approx. HO scale from the dollar store, gives the impression of a building in the distance, sort of a forced perspective technique.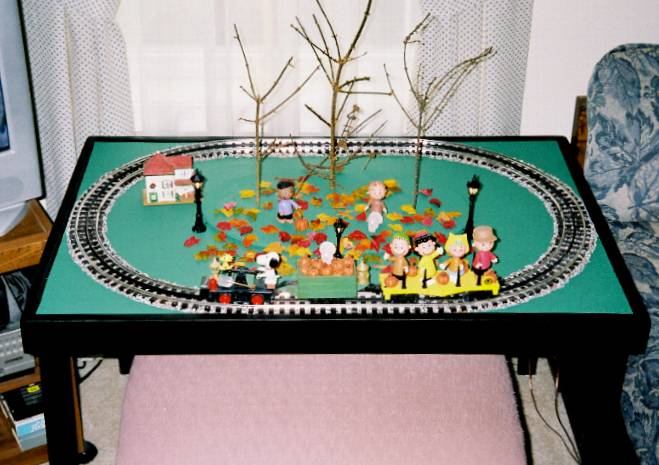 The finished table from the GarGraves track experiment just fits between the television and sofa in a very small family room. You can fit a layout in just about anywhere!!!!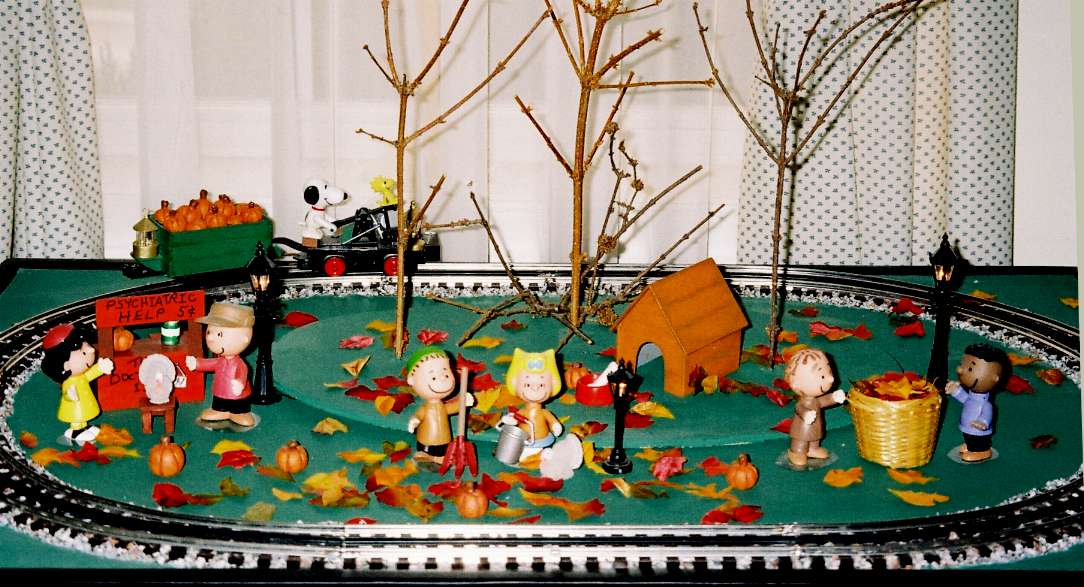 On the left side of this photo, notice how Lucy and Charlie Brown are helping a turkey deal with his chopaheadaphobia.

[more about the modified figures]




[more about the modified figures for Halloween]




[more about the little O24 loop of GarGraves track.]




[more about the figures for Christmas]

Here is a great source for various figures: Charlie Brown, Snoopy and Peanuts figures from Time & Space Toys



The site owner is not and cannot be held liable for fire, electrical shock, property damage, bodily injury, loss of life, or accident of any kind caused by electrical circuits or any ideas, projects, techniques, or information contained on this site. The visitor assumes all risk and responsibility for any loss, injury, accident or damage arising from the use of information, ideas, techniques, projects, concepts, components, products, and circuits on this site.

Please refer to hobby reference materials for correct and safe use information regarding these and all electronic circuits. These diagrams are intended to explain how things were accomplished in theory, but it is the responsibility of the individual to locate precise information regarding electrical circuits, materials, ratings of components, etc. Do not attempt these hobby projects, or any electrical project, if you don't have the necessary skills and experience.


[back to main page]