Merry Christmas !!!
Also check my Snoopy delivering gifts video on YouTube,
and my YouTube channel.
2 Small Christmas Set-Ups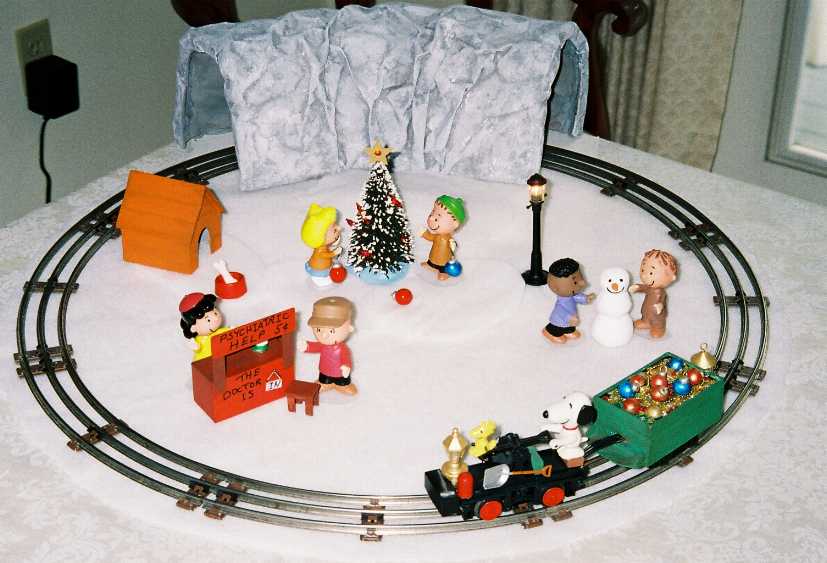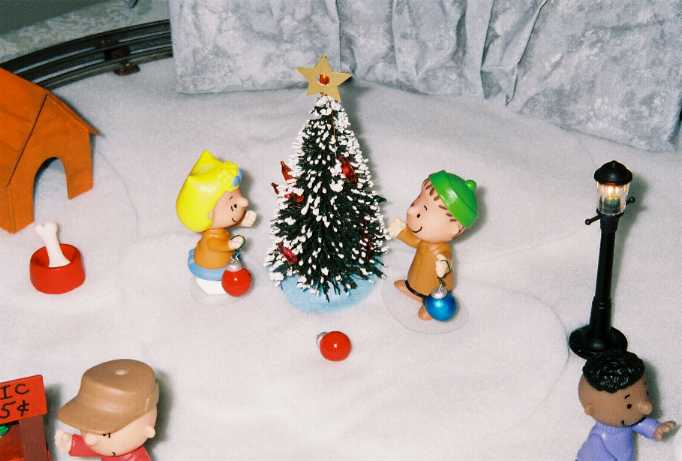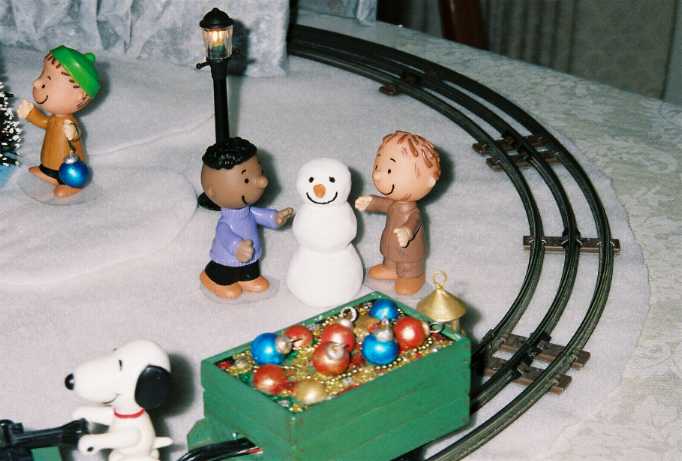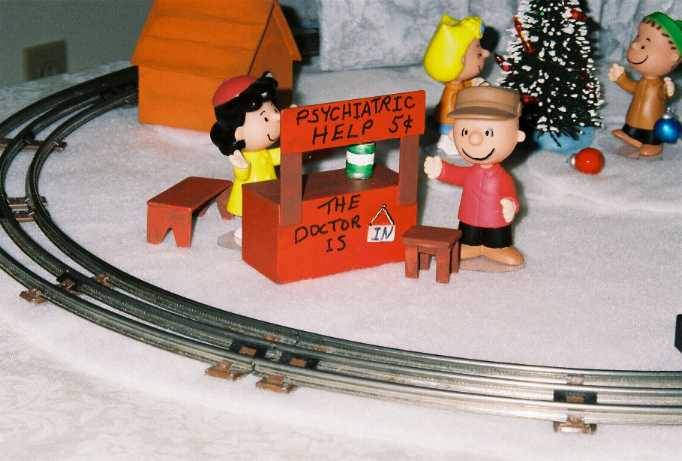 Here are the Charlie Brown Christmas figures with a few homemade pieces. Although the larger 5 inch tall figures came with accessories, Lucy's booth, the snowman and dog house were homemade in scale with these approximately 3 inch tall figures. The booth (with a little bench behind Lucy and a stool) and the dog house were made from .060 inch thick sheet styrene. The snowman, Snoopy's bowl and bone, Christmas balls, and Lucy's coffee can were made from Sculpey. The tree was a purchased bottle brush style tree that was cut down about an inch, then small lights were strung with a styrene cut-out of a star at the very top over a light. The lights are standard 2.5 volt bare wire Christmas tree lights (no bases or sockets) that were soldered in series, with short lengths of thin wire in between the lights. The lamppost uses a 12 volt bulb. The power supply is a 12 VDC wall transformer, with a circuit breaker on the line to the tree and lamppost. Polyester quilt batting is used as an inexpensive "snow blanket." The tunnel, an essential part of a small loop of track for creating some "mystery," is just a homemade cardboard frame covered with crumpled brown paper, then painted to look a little like snow-covered rock. The loop (circle) is just regular O27 Lionel sectional track. The handcar is powered by a separate wall transformer at approx. 7.5 volts DC, fixed.

Some hobbyists find it difficult to arrange elements of a scene into a good-looking result. However, there is a simple formula for those without much experience in arranging things for a balanced artistic effect. It is sometimes referred to as the "rule of threes." It is sometimes difficult, but not impossible, to arrange only 2 or 4 items into a successful vignette or grouping, but odd numbers, like 3 or 5 objects (items or elements) are rather easy to work with. Look at the photos above for many examples and a few exceptions to the rule. The figures of Franklin and Linus are hard to display without a third element, the snowman. Just that simple. Now the lamppost could be considered a fourth element, but the three figures are prominent objects. Within the Charlie Brown Christmas circle of track there are 3 groupings of 3 principle elements (and room for more), but notice how the "rule of threes" works here. Now there is always the exception to the rule and much room for individual expression, so first please your own eye, but if you are in a quandary, try the odd number grouping. Once you are confident with your talents, just do what you like!

Other elements like the mountain are helpful for creating a backdrop that enhances or supports the scene, however a mountain is always welcomed on any railroad related scene. The circle of track contains the elements and makes them more important as they relate to one another. Although the scene is not finished, it does demonstrate another principle -- "the whole is more than the sum of its parts."

Measured diagrams for building Snoopy's dog house and Lucy's psychiatrist booth (with bench and stool) are at the bottom of this page. The Sculpey snowman was made using the original Sculpey then painted with regular craft acrylics after baking and cooling. The snowman was formed over balls of aluminum foil to reduce the amount of Sculpey needed and baking time. Snoopy's bowl and bone, Lucy's coffee can, and the Christmas balls were also painted with acrylics after curing.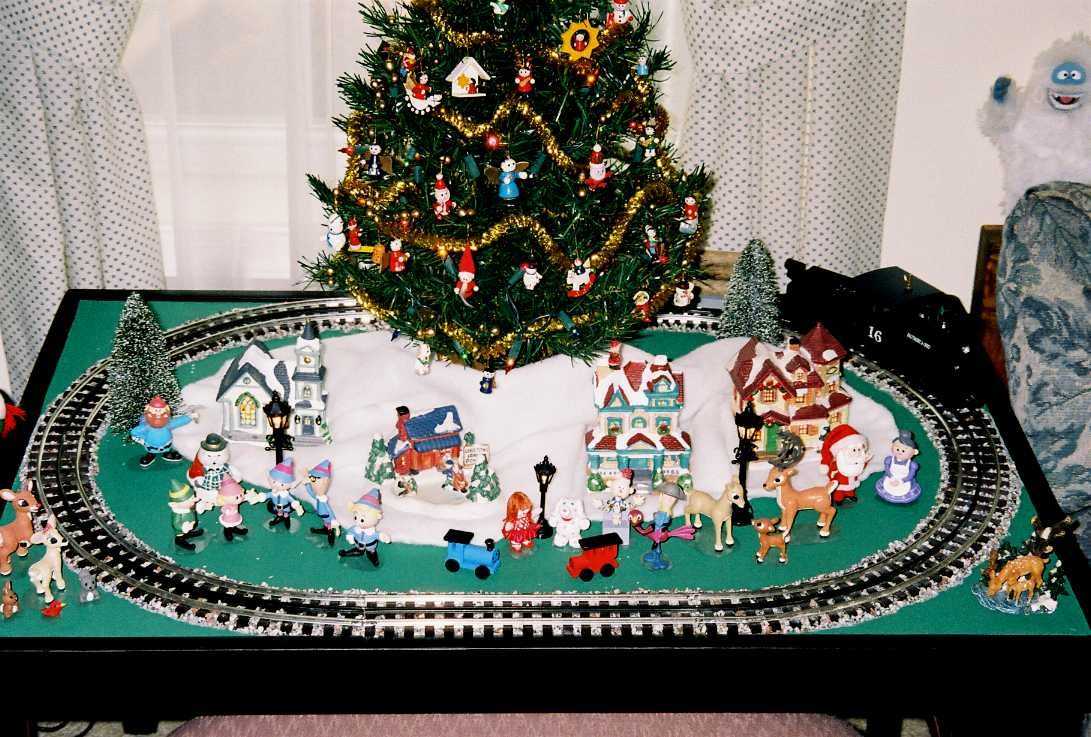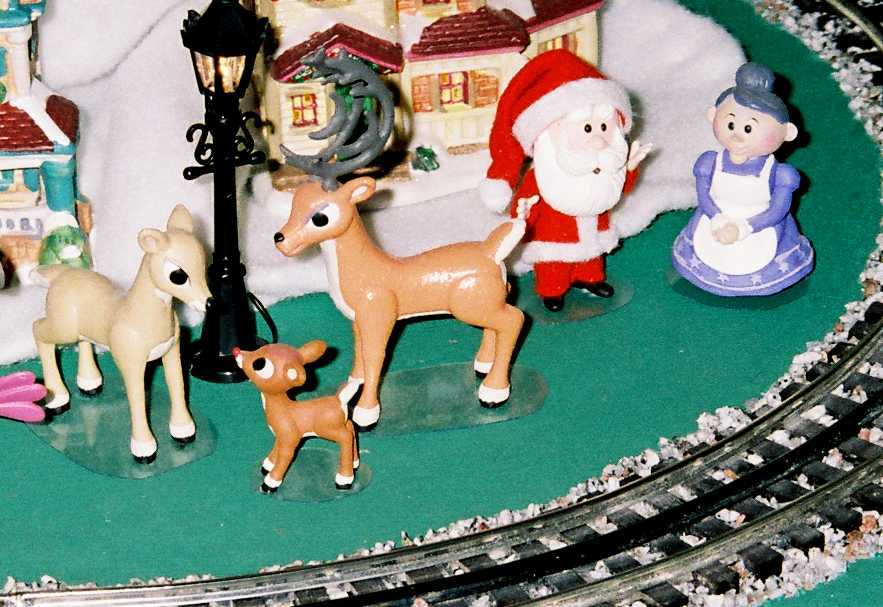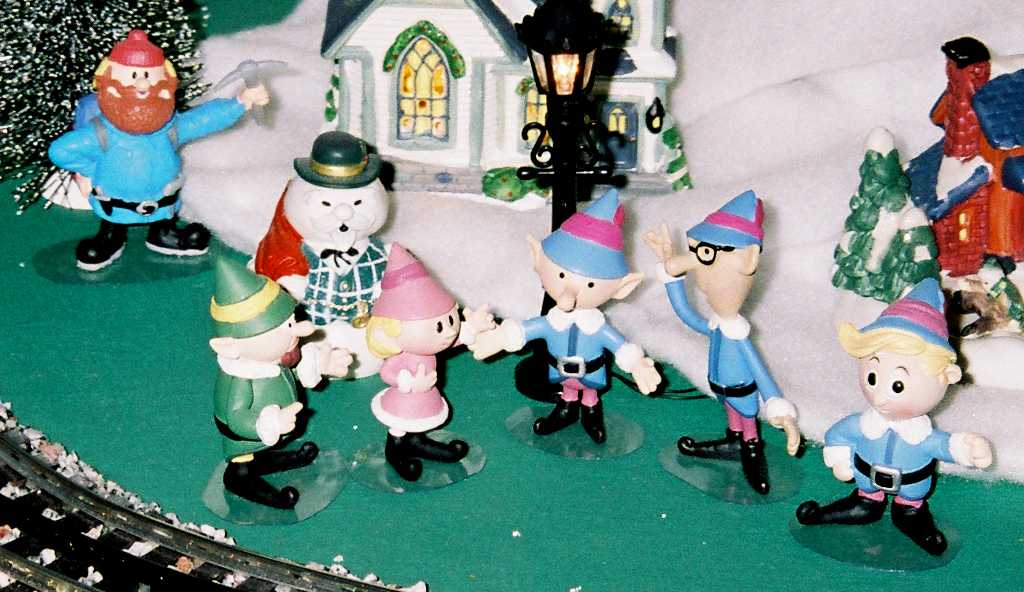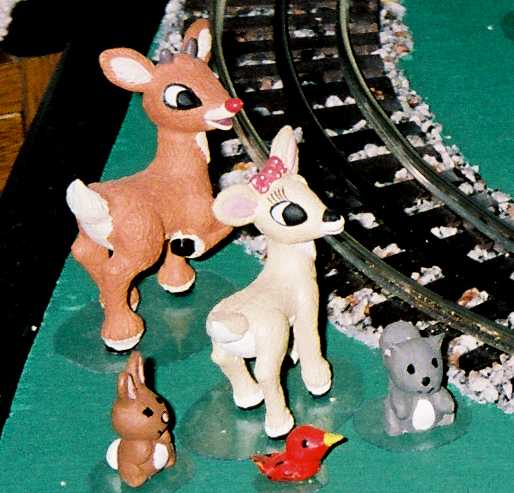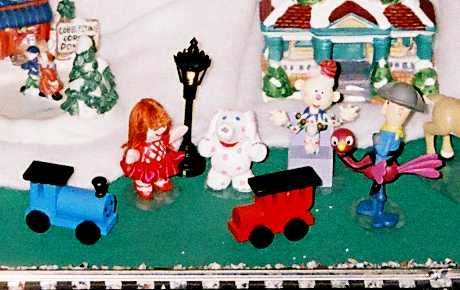 This is the little GarGraves layout (GarGraves flexible track bent to under a 24 inch diameter curve) with Dollar Tree buildings, lampposts, and Rudolph figures. Polyester batting also is used as snow. The doll and elephant toys, as well as the little bunny, squirrel, and cardinal, were made from Sculpey. Santa's suit is homemade from felt (almost went blind making that little suit). The wooden train and truck were purchased unpainted, then painted to resemble misfit toys. Part of the fun with this set-up is in finding new ways to display the figures every season. Little vignettes recall the Rudolph story, or you can create new ones. The Charlie Brown Christmas and Rudolph figures on this page are from the same company, Memory Lane. These figures seem to run in cycles in the stores, so some seasons it is difficult to find them. However, a little time searching on the Web will usually be fruitful. A modified K-Line Porter circles the town.

In order to keep these figures from falling over due to vibrations or the unstable surface of the polyester batting, figures are glued to clear hard plastic ovals cut from their original packaging plastic. The Rudolph figures are glued with super glue to the clear plastic, and the Charlie Brown Christmas figures use the Mini-Hold temporary adhesive. Look closely at the photos and you'll notice the clear plastic bases.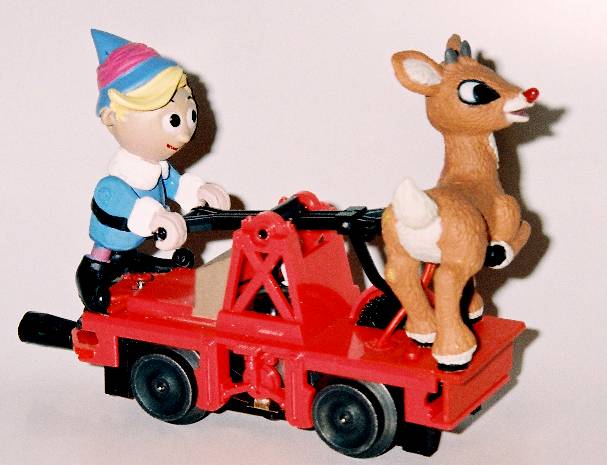 A new (Jan. 2009) homemade animated item with the Rudolph figures, my home-built Rudolph & Hermey handcar.

This is the train that runs on this O23.75 (measured from the outer rail of the curve) loop of GarGraves track. The loco and tender were featured in the February/March 2008 issue of O Gauge Railroading magazine, Run 227, as a "how to" project by me. The cowcatcher and tender are homemade, my own design. The log car is also my design, with "logs" cut from a privet hedge.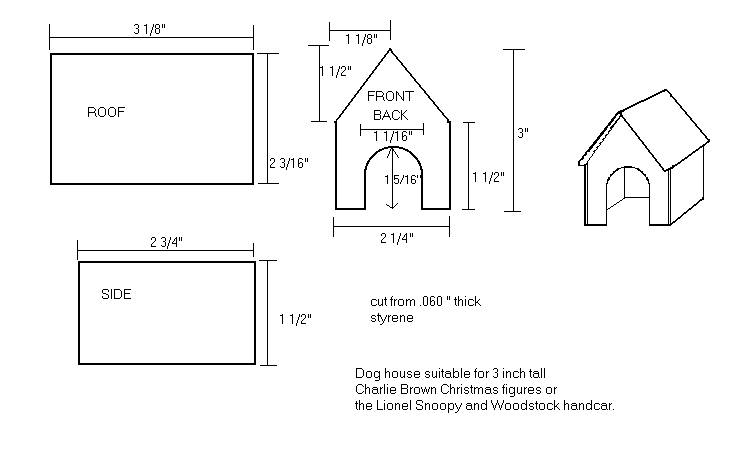 Snoopy's dog house and Lucy's booth are simple sheet styrene projects, however thick cardstock could work equally well. These simple building projects add so much to the scene, and they are not difficult to make since they don't have to be perfect, just cartoon-like. After the glue cured, styrene objects were sanded, cleaned, primed with inexpensive flat gray spray paint, then hand-painted with ordinary craft acrylics. Slightly imperfect workmanship doesn't matter much here since these things are supposed to look homebuilt. (These are not patterns / not drawn to size.)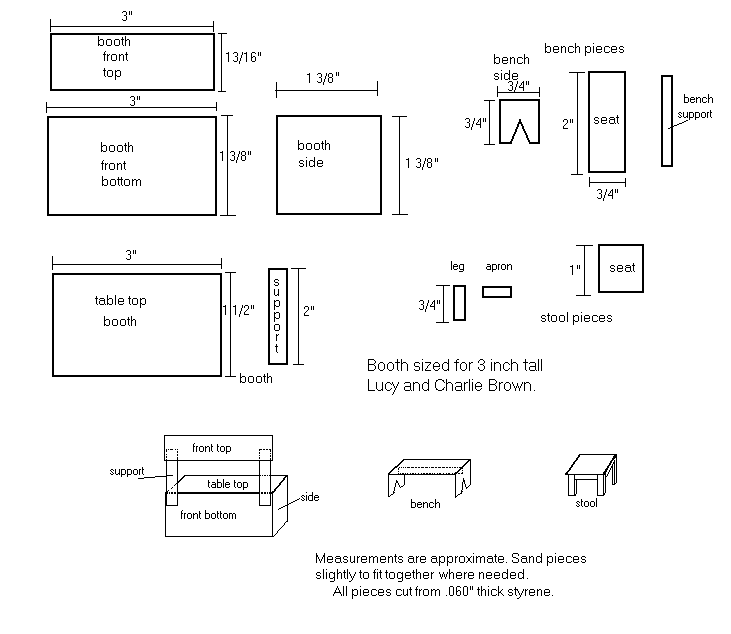 about the modified handcar
to the modified figures page
about the benchwork and GarGraves track
back to the Charlie Brown Christmas figures with the Snoopy and Woodstock handcar page
for more photos of these projects
more about the figures
back to main page
Here is a great source for various figures:

Charlie Brown, Snoopy and Peanuts figures from Time & Space Toys
See page source code for the JavaScript snow effect copyright information.