Lionel's Playtime Playground
If the video file completely loads but doesn't play, click the browser's "Refresh" or "Reload" button.
If the video does not appear above, click here for the clip (104k MPEG).
If viewing with a stand-alone media player, set the player to repeat or loop.
Still having problems with the video clips?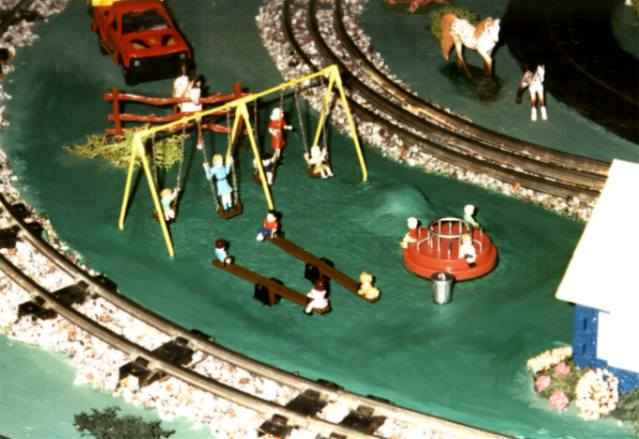 This item, manufactured by Lionel for 2003, is just fantastic, the perfect accessory for your O scale model or toy train layout!!! Those who set up a layout in the old tradition (A Christmas Garden) will very much appreciate this affordable and ready to operate animated accessory in about O scale. You don't have to have hours of free time for tinkering, bundles of cash, or a degree in mechanical engineering to have this very well done animation on your layout. Even if you possess the talent to create an animation similar to this, it would be next to impossible to achieve anything close to it for the price. The children's swings have miniature chains and are invisibly operated by magnets. Actually there isn't any visible means of a mechanism. The figures of the children, mother, and puppy dog have that classic look of the mid 1950's. Just perfect! Hats off to Lionel for such a wonderful animated item that the average family can own and enjoy!
[back to main page]