Jump, Jump, Jump !!!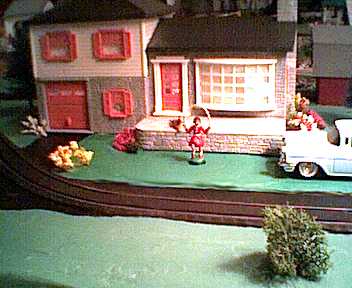 This animation completes the suburban block with animation in front of all three classic Plasticville homes. This little girl was from a set of unpainted K-Line O scale plastic figures. The puppy dog on the porch watches patiently as our little neighbor plays. Why does she have so much energy? Must be her mother's hearty cheese and macaroni.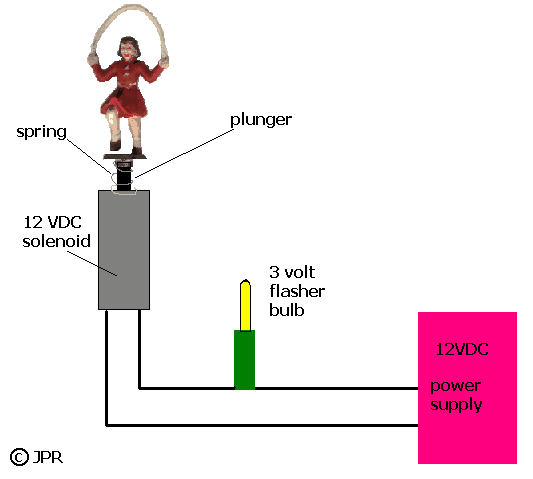 The flasher bulb pulses the solenoid, just like the kangaroo already on the layout. This solenoid is rated for continuous duty. Although it is rated at 12 VDC, apparently it will operate on about 9 VDC since the flasher bulb consumes approximately 3 volts. Flasher bulbs vary slightly in their rate of flash, so try a few different bulbs until the jumping looks correct to your eye. Be sure to allow for good air circulation around the solenoid and watch for overheating which could be a fire hazard under certain conditions.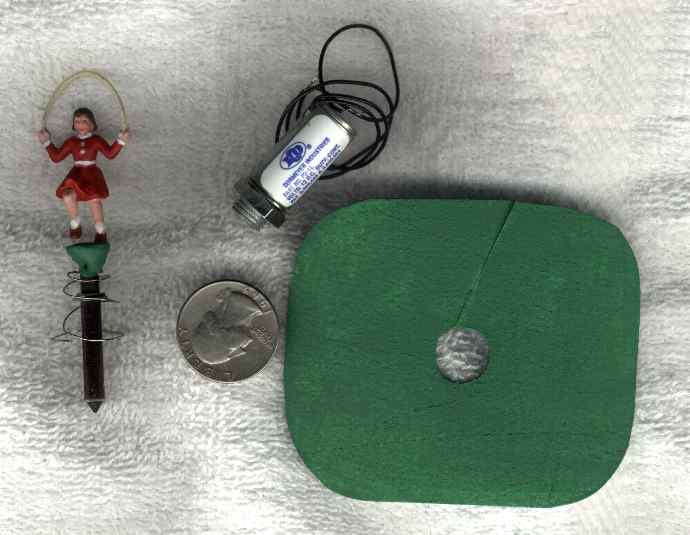 Here are the pieces. The spring is wound from the wire in a common twist tie. The plunger travels about 1/4" and there is a slight bouncing which results in a slightly higher jump on occasion. Also, the little girl turns slightly with almost every jump, a nice side effect that probably is the result of the spring being slightly uneven on the bottom. She will make a complete revolution, sometimes remaining in the same position for a few jumps. The green painted cover sheet is made from a section of discarded plastic bleach bottle. The sheet's edges were blended into the surrounding area with drywall mud before the final paint job. The cover sheet covers a 1" diameter hole in the layout's surface. The solenoid is mounted about 3/4" below the surface with a large plastic washer resting on the bolt to support the base of the spring.
[back to main page]