Electronic Flywheel
Experiment
Please note that this page was first created in 2006 and never part of the larger site until March 2010. Since 2006, smaller polarized capacitors have been used within a handcar (with a rectifier) to achieve the same effect, and bi-polar capacitors have been used with a Lionel reversing unit with handcars. Check my links on the 'welcome page' for more information about these projects. This experiment resulted in my article in Classic Toy Trains magazine, March 2007, about using a capacitor to improve a rail car's performance.
A bi-polar electrolytic capacitor, wired in parallel with the modified handcar's motor, produces a flywheel effect, similar to a mechanical flywheel (the modification was the removal of the bridge rectifier originally in the handcar). The bi-polar capacitor's stored charge is released into the motor when track power is interrupted, either from dirty track or wheels, bad rails, or when power is intentionally cut. Now the handcar has some coasting ability so it can coast over the problematic or dirty track and remain in operation without stalling.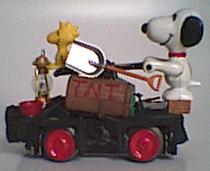 The large bi-polar capacitor is attached to the side of the handcar, painted to help it resemble a barrel of TNT, in keeping with the mining theme.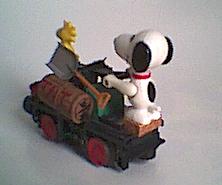 The large bi-polar capacitor extends over the handcar body by about a half an inch.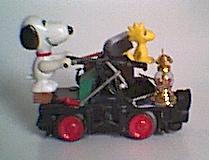 This is the side that is in view most of the time, so the capacitor hardly makes a difference in the handcar's appearance on the layout.
The bridge rectifier (that was in the handcar, as it was originally manufactured, so the handcar could be operated on AC track voltage) was removed to allow for both forward and reverse travel on DC voltage by reversing polarity to the track. Now that there is the bi-polar capacitor in place, track current should not exceed half the voltage rating of the capacitor, and if the handcar were to be placed absentmindedly on AC powered rails, the capacitor could explode causing much damage to both equipment and, more importantly, to people. So EXTREME CAUTION must be exercised when using this idea. Although there are several safe-guards in place, like a fixed track voltage and a separate track area for its use only, use this idea at your own risk!!! Wear eye and face protection when testing this circuit, be careful to protect fingers, and consult a professional for proper component ratings, etc. Remember that this was an experiment to test a theory and that capacitors should never be left exposed. Capacitors must always be contained within a proper project box!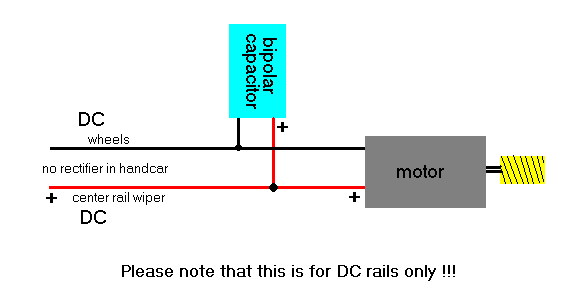 This is how the bi-polar capacitor is wired. The lantern light is also wired in parallel.
These are 3300 mfd, 16V caps.
It is always best to give your equipment frequent breaks to help prevent motor wear and overheating. Under ideal conditions, like perfectly laid, clean track, with no insulated rail sections (like the insulated areas of a switch or crossover), the electronic flywheel would not be necessary. However, in the mine area, several sections of track must have a slight twisting as the track spirals down from the top of the elevator to the lower level. Because of these uneven track sections, only 2 of the 4 handcar wheels are in good contact with the rails at times, and one wheel has a traction tire which will only allow the flange to pick up current (the center rail wiper does stay in good contact with the newer rail). On new clean track, operation was very dependable. However I used old, inferior but sentimental track sections in the flat, straight length of rail that leads to the opposite end of the layout, and these sections of track are worn and dented. Without the bi-polar capacitor, unless the old track was freshly cleaned and polished, there would be jerky operation at best. In testing the capacitor in my situation, I feel there is little danger of a capacitor failure for me and the gain in performance is remarkable. It would be best if the capacitor could be inside an enclosure or project box, but there is no room within the handcar. If the capacitor does become warm to the touch, that would be a warning sign of a problem and it would be removed from the handcar. It is not a toy anymore!
The site owner is not and cannot be held liable for fire, electrical shock, property damage, bodily injury, loss of life, or accident of any kind caused by electrical circuits or any ideas, projects, techniques, or information contained on this site. The visitor assumes all risk and responsibility for any loss, injury, accident or damage arising from the use of information, ideas, techniques, projects, concepts, components, products, and circuits on this site.
Please refer to hobby reference materials for correct and safe use information regarding these and all electronic circuits. These diagrams are intended to explain how things were accomplished in theory, but it is the responsibility of the individual to locate precise information regarding electrical circuits, materials, ratings of components, etc. Do not attempt these hobby projects, or any electrical project, if you don't have the necessary skills and experience.

[back to main page]