A Comparison of Figures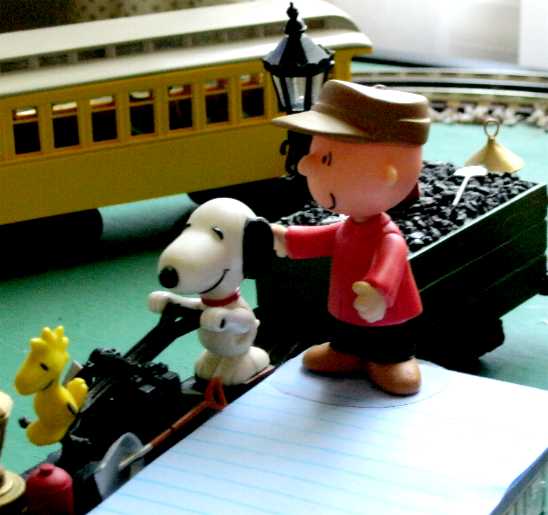 Charlie Brown Loves Snoopy !!!

Above the Memory Lane (now Forever Fun) Charlie Brown "mini clip-on" figure (no longer manufactured), which is about 3 1/4 inch tall not including the hat, is a workable match to the Snoopy figure on the Lionel O27 handcar, which is just under 2 inches (handcar from 1990 and also no longer manufactured). In addition to height, the volume of space that each figure consumes in relationship to the other is also a good way to determine acceptability. These figures side by side, with Charlie Brown standing on the same plane as Snoopy, shows that they look alright together. There is a little room for Charlie Brown to be about 10% larger. And Snoopy stands on a box on the handcar where the Peanuts figures would typically stand on a surface about 2 inches lower than Snoopy on the handcar in a display with the track height added, so Snoopy will always have a little more prominence with the height advantage when on the handcar on the rails. Any figure on an elevated surface will always appear a little larger, a good trick to remember if you need to display figures that are of slightly different scales in the same scene. After many years, about 45 so far for me, of looking at the Peanuts comic strip, the characters have changed a little with Snoopy becoming more humanoid and larger, and Charlie Brown a little less rotund.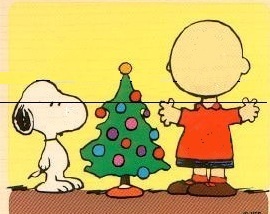 A good rule of thumb for determining correct proportions of figures from different manufactures is to use the above cartoon frame where a standing Snoopy's eyes are at the same level as Charlie Brown's neck. Although it is just one of several methods for determining compatibility, relative height comparison is a simple way to choose figures or objects that work well together visually.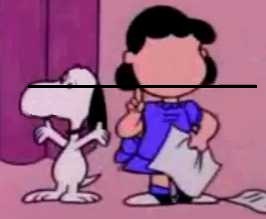 This is another example, from the famous Christmas special, with Lucy and Snoopy. Lucy should be a little shorter than Charlie Brwon. So Snoopy's eyes would be at the same level as Lucy's mouth, approximately, or the top of Snoopy's head should be level with Lucy's nose. Other examples will show Snoopy drawn a little smaller in proportion to the others.
Another frame from the special showing Snoopy's eyes even with Charlie Brown's neck.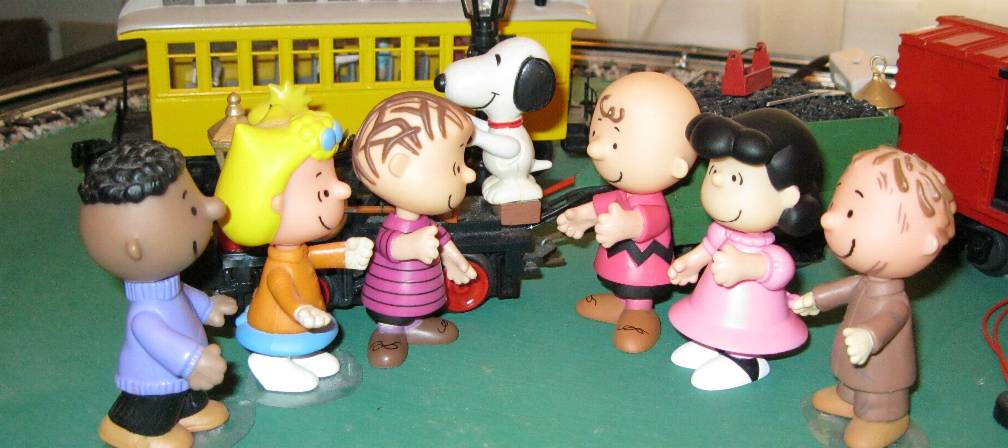 In the above photo, Charlie Brown, Lucy, and Linus are from Forever Fun's 2010 Valentine's line, and they blend nicely with the figures from the Christmas mini clip-on set from several years ago in size and feel. Notice where Sally, Pig-Pen, and Franklin are in long sleeves and long paints, but don't look too much out of place with the others in warm weather attire. Now a non-wintertime scene can be created for 4th of July, Memorial Day, even Easter and Thanksgiving although the winter attire also works for spring and fall.







A List of Handcar Related Pages on this Site




See my article "Halt Handcar Hang-Ups!" offered now as a free sample from Kalmbach Publishing and Classic Toy Trains Magazine, for details about modifying a Lionel handcar with a reversing circuit.

[back to main page]