A Coffee Table Layout,
which can be adapted for larger scale trains.
This project uses an HO scale train on a 25" by 49" table top, however the idea can be applied to larger scales provided you can accommodate the minimum turning radius of the locomotive. In this example the curves are 24" in diameter in HO flextrack, however O gauge 3 rail track could also be used in this configuration for smaller O27 items. Only simple woodworking skills are needed since the elaborate carved legs, which visually carry the whole woodworking project, were purchased as unfinished seconds on the Web, and wood filler covers a multitude of mistakes. This might be a way for some men to convince their wives to let them have a small layout in a living room, when space for a layout elsewhere in the home or apartment might not exist, perhaps just for the Christmas season, and the table is a nice piece of furniture, too!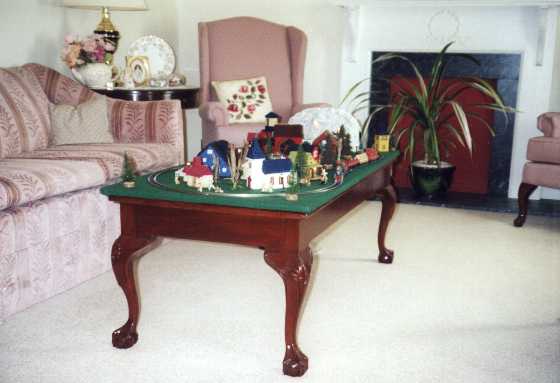 This little HO layout features needlepoint covered houses and miniature ceramic animals. The concept can be adapted to other scales and table sizes.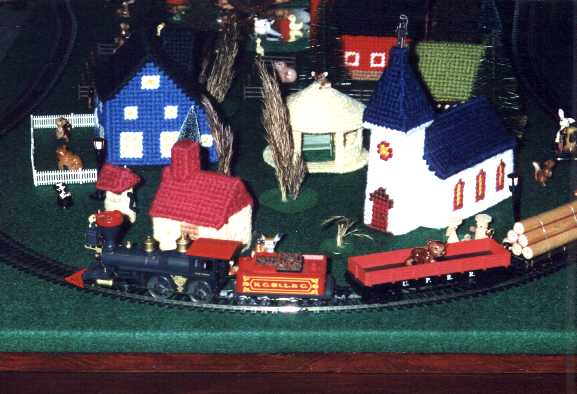 Notice how this 4-4-0 American handles the 24" diameter curve!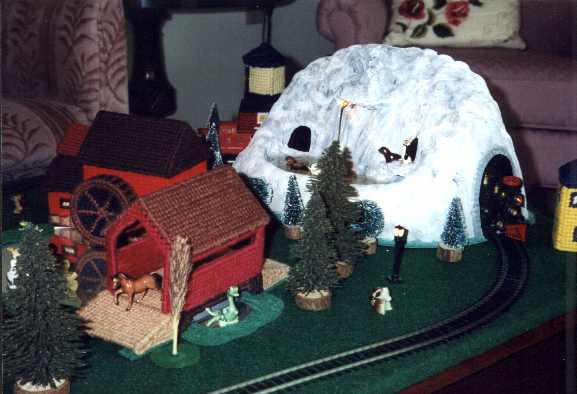 The mountain was a Bachmann waterfall mountain that has been modified with an overhanging ledge and lights, with a small aquarium water pump.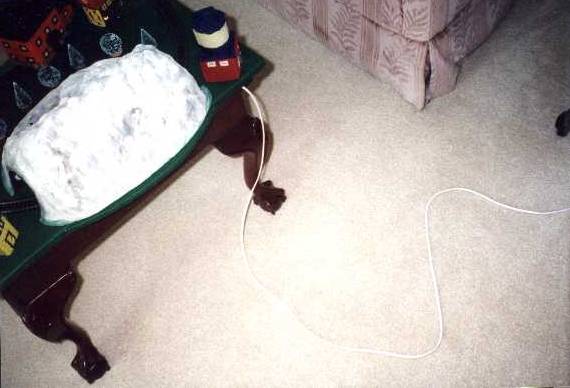 All power supplies are concealed within the buildings, and the wiring runs within a 1/4" high space under the plywood board, which is covered in green felt. Only one white cord connects to an outlet, no other wiring is visible. The felt covered plywood board rests on the actual finished table top, but the table top could be temporarily removed for a plywood top to be drilled, wired, and finished with scenic materials, just like a traditional layout.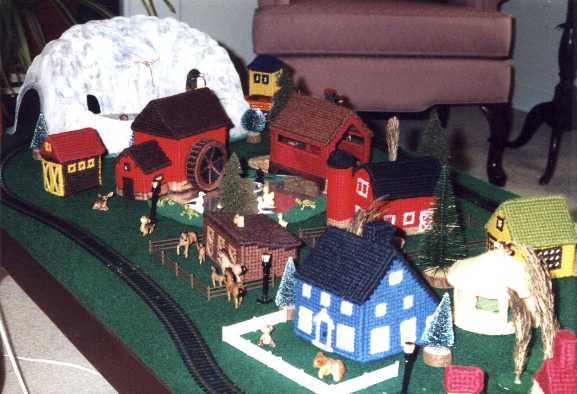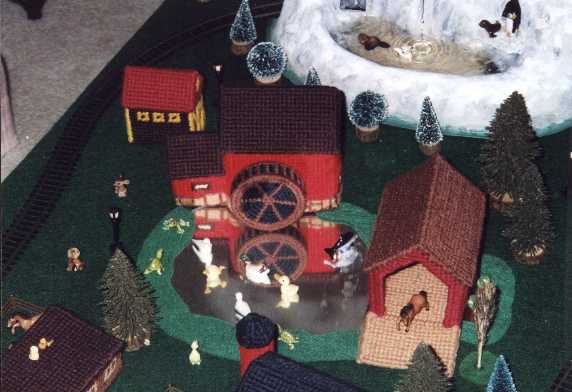 The waterwheel turns by way of an old Erector set's gearbox which has be fitted with a small 12 VDC motor.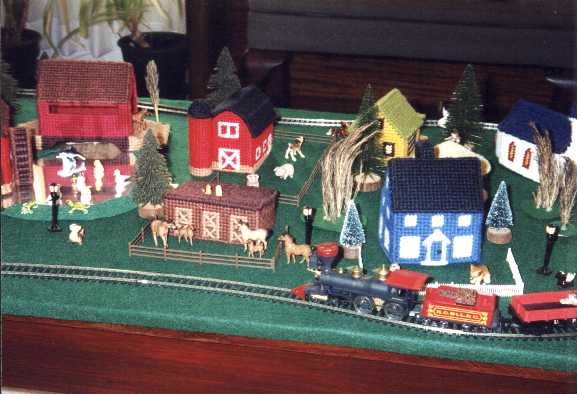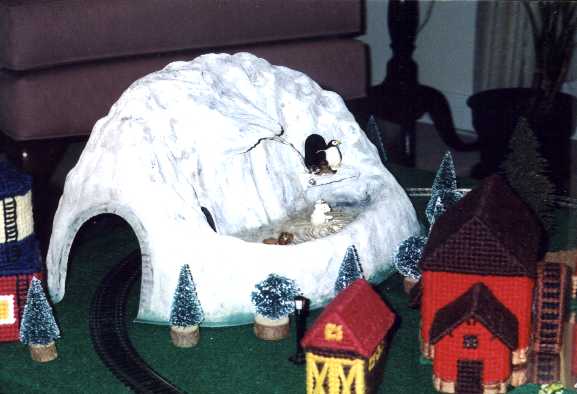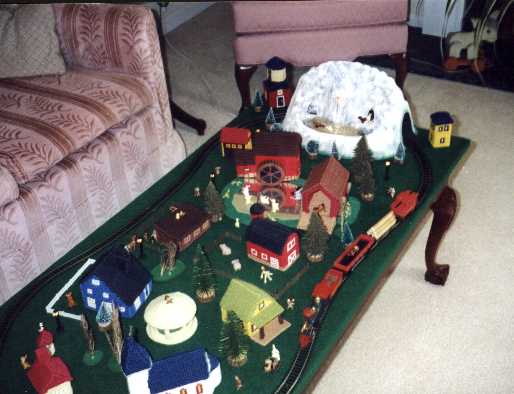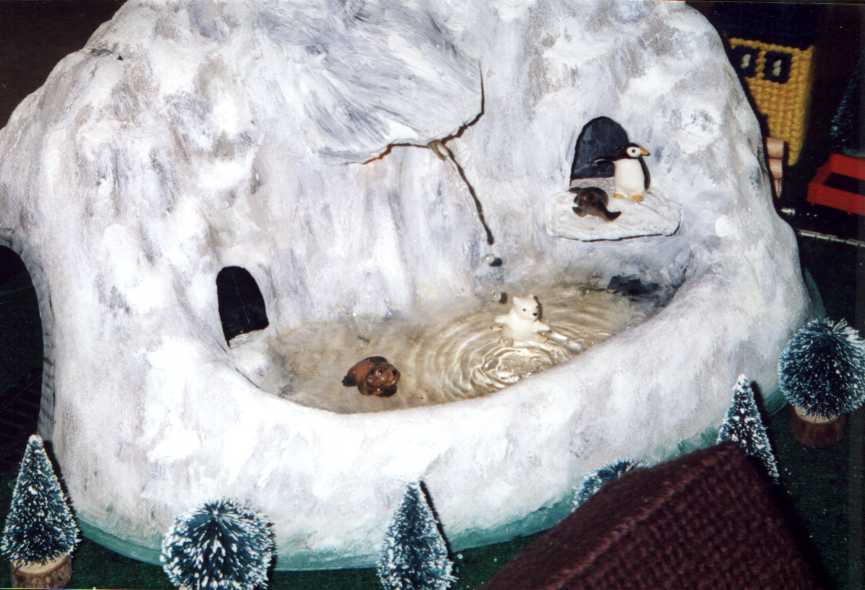 Below are examples of how to tackle this project. Wood filler and a good finish conceal a multitude of mistakes.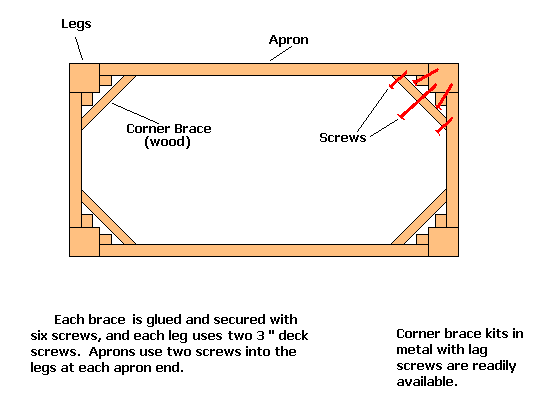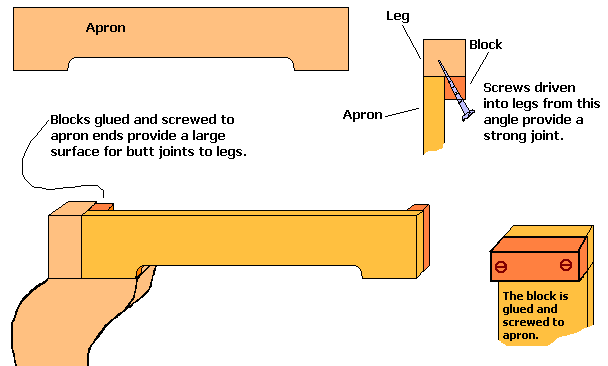 &copy Joseph P Rampolla
[back to main page]