From Spy To Handsome Guy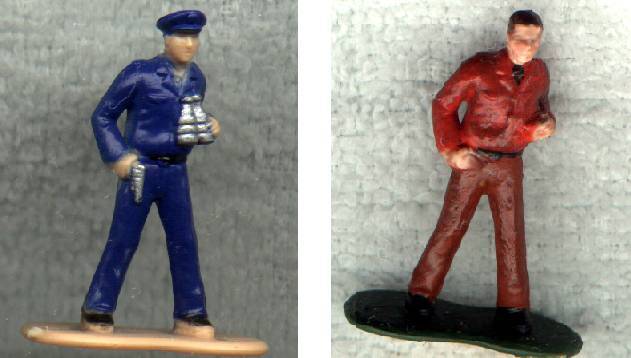 Yes, it is hard to believe, perhaps, but the figure with the gun and binoculars is now a handsome guy striking a casual pose. The gun, hat, and binoculars were removed with a hobby knife and emery board. The hat was going to stay, but then the knife slipped and the brim of the hat was gone. Solution: How about a nice haircut instead? After the haircut, the figure was washed with dish detergent and toothbrush in hot water, dried, wiped down with rubbing alcohol, allowed to dry again, and then painted with acrylic paints, in this order: 1. all skin areas, hands, face, 2. shirt, hair, 3. jacket, pants, 4. shoes, belt, 5. base, 6. shading with a tinted flat varnish to bring out facial and clothing details, letting paint dry between steps. The tinted varnish, or wash, flows into facial details so the eyes and mouth don't have to be painstakingly painted. To make a wash, use a drop of rusty brown paint in a teaspoon of clear matte acrylic varnish ("flow medium" can be substituted for the varnish), more or less paint in the varnish depending on the color it will cover. A cotton swab can be used to remove excess. The acrylic paints dry quickly, but the drying process can be hastened with a hair dryer on a low heat setting. The use of magnifying glasses (+3.25), another dollar store find, is a necessity when painting these small figures. These images above were made with a scanner, and the figure will never be viewed this closely when on the layout. So the carving and paint job doesn't need to be perfect. The green base is lighter in color than the image above indicates, but a gray wash on the shoes would add a nice highlight and visually separate the shoes from a dark base.

Generally speaking, when painting plastics, acrylics don't usually react with plastic, but priming may be necessary. Styrene can be primed with a flat spray paint designed for plastic models, but may not be necessary. Vinyl can be problematic, but testing first is always good advice. Polymer clay items work best with the acrylics, but there are special primers for the clay, made by their manufacturers, that allow for other types of paint to be used. Remember, to keep oils from the finger tips from preventing paint adhesion, wear clean, disposable gloves when handling your projects while washing and preparing the surfaces before painting. Most molded items have some amount of mold release agent on them, which might prevent paint adhesion, so be sure to clean surfaces well. A light sanding with very fine sandpaper will help with paint adhesion. A final wiping down with rubbing alcohol is always a good idea before painting. Be neat when painting, but perfection isn't necessary. If it looks good at arms-length, you have a successful result!

Check the boy with a plane animation page and the lawn mowing animation page to see how to reposition the limbs of styrene figures for a different poses.


[back to the "On The Cheap" page]
[back to main page]